Part Three in a Three-Part Series
The soul-searching silent solitude, the rhythm of the tides from the cove across the street—I live what my mother lived when she was alone in this house, speaking to the spiders who inhabited the cobwebbed corners of her bedroom, before afternoons became terror-filled and cookbooks were no longer familiar friends.
Her artist's studio stretches into a week-long project, too painful to sort through in one day. Friends who've been there tell me they've found valuables, money even, stashed in pages of ancient Time magazines. I find no diamonds but plenty of hidden gems in her vast portfolio of creativity: fashion ads, hand decorated menus, floral watercolor sketches, essays from her monthly newsletter, smudged with age.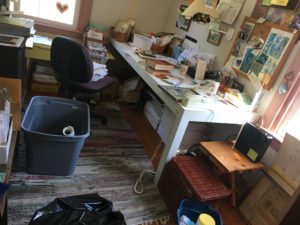 The house, I decide, will be a tribute to her life, her free spirit released from the dusty piles of an ever increasing brain disease, dusted off to showcase her eclectic talent.
But how?