Yesterday, we went for a walk, my mother and I. We had just finished lunch in the main dining room of the senior home, one of her favorite things to do.
"This is a horrible place," my mother says, the chocolate cake from moments ago long forgotten. "You can't imagine what happens here."
I've heard this almost as many times as I've heard what a wonderful place it is. And I've learned over the years to nod, smile and redirect when she experiences the extreme emotions of Alzheimer's.
"Look at the beautiful marigold bush!" I point to the purple sage on the xeriscaped lawn. These days, we call most flowers "marigolds," regardless of hue. The familiar memory erases her distress as swiftly as she shifts between reality and dementia.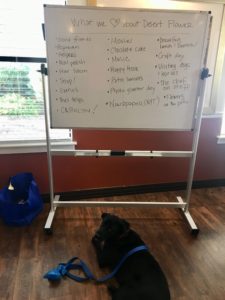 Today, when I visit, the residents are listing famous heroes on the white board. We take a walk, my mother and I. She picks a few pink oleanders.
"What beautiful marigolds!" she says. "I love this place!"
When we return, we begin a new white board game with her friends, listing all the things they love about living here.
"Chocolate cake!" my mother yells out. "We haven't had that in years!"