days of future passed
We loaded our cars with baking racks and farro; an omelette pan; some ginger. All the ingredients for a potluck weekend of cooking. The little ranch home we scored for a getaway weekend in Joshua Tree was not part of Airbnb's gleaming and somewhat intimidating Chef Kitchen Collection, but rather an unexpected salute to mid-century modern memorabilia from the moment we opened the lime green front door: macrame wall hangings, ceramic owls, an old turntable and crate of vinyl memories; a basket swing suspended from the living room ceiling.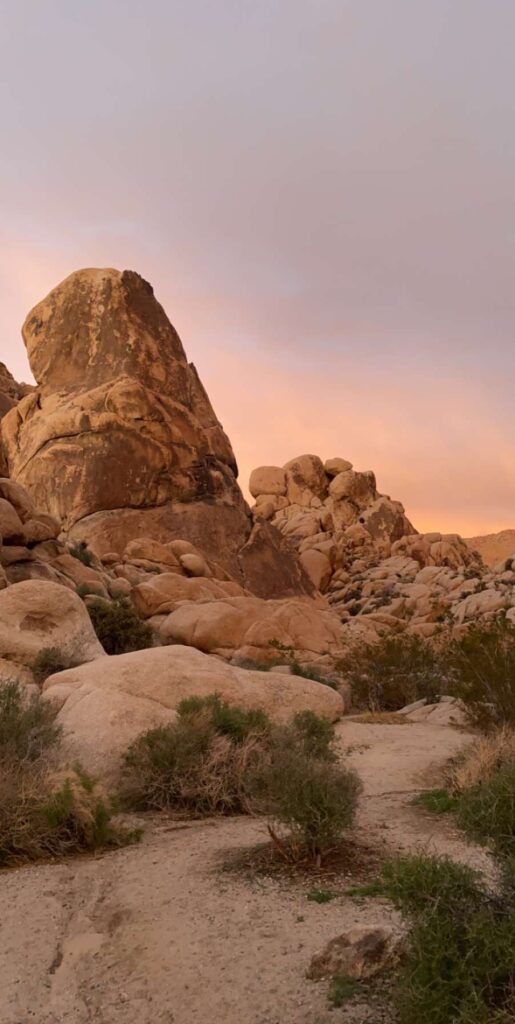 This wasn't the first time Cindy and I had met up in Joshua Tree, the eclectic artist colony nestled in Southern California's high desert. Bounded by a National Park, it's the not-quite midpoint between our respective beach and desert dwellings. We'd camped in the park on a frosty weekend three years ago in an RV with a broken heater, surrounded by tumbleweeds and pink sherbet sunsets and boulders as large as mountains. Empty space, few people.
"It all began in Joshua Tree," I wrote in my journal that weekend in March, days before my mother lay in a tiny Maine hospital with a fractured hip. A week after my husband received a new hip in Arizona. Two years before my father fell on his hip for the fourth time, plunging into his final descent.
Then, Covid was just a whisper.
***
I have known Cindy since I was nineteen. We worked together, data entry on clunky computer terminals at a Miller Beer distributor in the days when mainframes took up serious real estate and fax machines were not yet a thing. We have been roommates in various apartments and houses from coast to coast. We have worn leg warmers to aerobics classes, watched Raising Arizona and Ferris Bueller's Day Off probably a hundred times, danced and drank our way through riverfront nightclubs and beach bars. And we have cooked. Yogurt dip in our Bangor kitchen with the chipped white Formica counters. Her mom's Mexican casserole on Cinco de Mayo when we lived in Newport Beach. My mother's peas and pearl onions on Thanksgiving. And now, a potluck picnic of random recipes.
***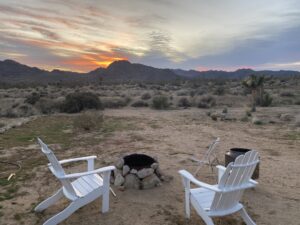 Saturday, first light. The sky melting from aqua to shell pink to eventually a band of orange above the rock formations in the backyard of this little house on the edge of the park. The high desert stretches for miles, spindly plants and scrub; a tree, barren. A handful of Joshua trees aglow in their spiky armor. Wooden Adirondack chairs, dusty and out of place. The obligatory metal white-and-yellow porch chair everyone's grandparents had, spotted with rust stains.
It's windy, of course it's windy, it's always windy in the high desert. A baby hummingbird dive-bombs the picnic table and already, fine sand embedded in my fingernails, my notebook pages crunching with grit.
Cindy slips into the sunrise through the sliding glass door. When you write, you sound just like your mother, she says.
It's a gift, I reply. An embrace, a kiss, two voices becoming one.
The wind groans, the morning unfurls. A pair of jackrabbits. A disorienting trail run along the sandy wash. A loop that wasn't a loop, seemingly mapped by someone either lost or stoned. A trip into town, scavenging thrift shops for vintage cookbooks and old jewelry, an antique bolo tie. And when we return to this museum of a home, the juxtaposition continues, the curious comfort found in artifacts from other peoples' lives: The wooden bowl on its stand, waiting for a tableside batch of guacamole, a mushroom lamp in avocado green, the wrought iron owl trivet, a gray enamel coffee pot.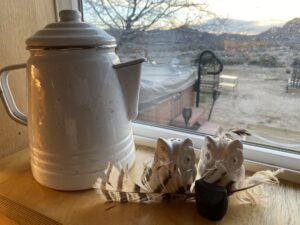 In the retro kitchen, Cindy preps her Farro Salad, using the saucepan she brought along from our early days as roommates in Maine, its copper-bottomed sheen long gone. She asks if I remember and I do, of course I do. An event I have wished to forget yet forever stitched in the fabric of memory. I think that was a wedding present from my in-laws, I say. I'm glad you've kept it all these years.
She sautés shallots and I flip through the homeowner's record collection: Merle Haggard. Joni Mitchell. Johnny Cash. The Moody Blues. We roast and bake and savor; we listen and languish in the hot tub. A shooting star escapes into the darkness, the sky's teardrop. I love desert nights, Cindy says. The sky is so big.
And we speak of our fathers and mothers and sisters and brothers, and we begin to see that all the departed souls, known or unknown, who cling to the corners in this house and in our minds are the true mementoes in our collection–intangible, everlasting delights.