Childhood Christmas traditions were as quirky as my family: cans of soup in our stockings, regifting used candles, gift tags that rhymed.
Today, in lockstep with Alzheimers' relentless march, my mother enjoys simple Christmas traditions. Gingerbread and eggnog. Cards and carols.
On the way to church this morning, we sang along to Rudolph and Silent Night. She knew all the words.
Yet, as I've learned in dementia caregiving, memories are excruciatingly arbitrary.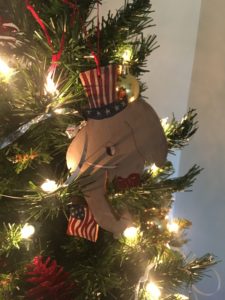 "We MUST get a Christmas tree!" she declared, over coffee and donuts after church. We'd already put one up weeks ago and although she didn't recognize any of the ornaments from past family Christmases, it's a comforting symbol of the season.
When we returned to her care home, she noticed the little tree, tinsel twinkling amidst tiny white lights. "Oh, for heaven's sake!" she said. "Is it Christmas already?"