I've left mom alone for ten days for a petsitting job, and I'm as nervous as she was when she dropped me at summer camp, age eleven.
She's not alone, really. The caregivers in her memory care home look out for her 24/7. The care director texts photos of her at cooking club; playing the harmonica; modeling new hats. I should enjoy this time away.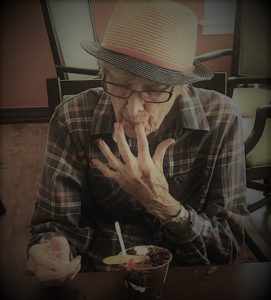 It's hard, though, after spending four years with someone who panics when I'm not there every day. Parenting roles are reversed in our demented lives and each time I leave, it's as if she were a child again, scared her mother won't come back. Even after the hundreds of times I've left and returned, all she knows is that in that moment, I am gone.
Eventually, worry lifts; fear subsides and I learn to trust the process.