kondo-ing the cupboards
The ghost of Christmas past recently resurfaced in my life, in the form of a small book barely larger than my hand, Marie Kondo's the life-changing magic of tidying up. A Christmas gift from my mom years ago, as gorgeously wrapped as the origami swans she used to fold. A handbook, of sorts; a blueprint for organizing one's life.
In preparation for the reboot of my mom's old newsletter, Cook & Tell, and a new year filled with more writing and cooking than I've done since possibly the Reagan Administration, I set out to inventory and reorganize my Southwest kitchen/studio space, Kondo-style. In a plot twist that should astonish no one—husband, friends, friends who actually cook, and especially the dogs—I discovered there are few things in my kitchen that don't spark joy. Because there are, quite simply, few things in my kitchen.
Kitchen tools were needed. Office supplies were running on empty. A shopping trip occurred. In Kondo-speak, there was more joy to be sparked.
And voila! Just in time for the holidays, joy arrived in the form of an apron and a whiteboard.
So far, the whiteboard has proven to be a game changer. It's actually not white, but rather a vibrant shade of robin's egg blue. And I haven't hung it yet, it's leaning against the wall by my desk, a mobile reminder of upcoming menus and deadlines.
The apron, sadly, was neither life-changing nor magic. Struggling to find an apron in a legit brick-and-mortar store anywhere, I was forced into other options: either sew or search the vast wasteland that we know as the internet. Since I can barely darn a sock, I chose the latter.
The apron arrived two days later, full of promise. And why not? How could anything this basic not meet my expectations? The fabric was as advertised, a plaid cotton. Two front pockets. And yet. Expectations were not met. The "adjustable" neck strap refused to stay put. So long, I nearly tripped. Barely wide enough to fit, even, the cat.
The "return item" button was pressed within minutes.
After an intense investigation, I am happy to report that I have found the perfect apron. It feels like something my mother would wear, and maybe even stitch together in a weekend: red roosters on sturdy unbleached muslin. She had a thing for roosters, the collective flock in her island kitchen a holdover from my grandmother's Boston kitchen. Rooster tray, rooster painting, the ceramic rooster creamer for her tea. Here, in my desert kitchen/studio there are no roosters, but the apron pairs well with the other barn-red items: Keurig, Vitamix, desk chair. And, as described in the tag, brings "a little farmhouse charm" to my kitchen."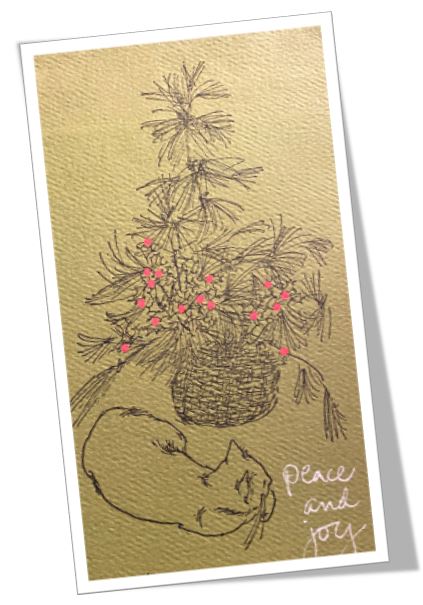 In 2011, the year she gifted me with that little book, my mom was celebrating the thirtieth year of writing and publishing her newsletter. And, as I revive the joy it sparked for all those years, her spirit lives on through her words and recipes and unique illustrations in what so many readers have called their "favorite piece of mail" through the years.