from the archives: an evolution of gratitude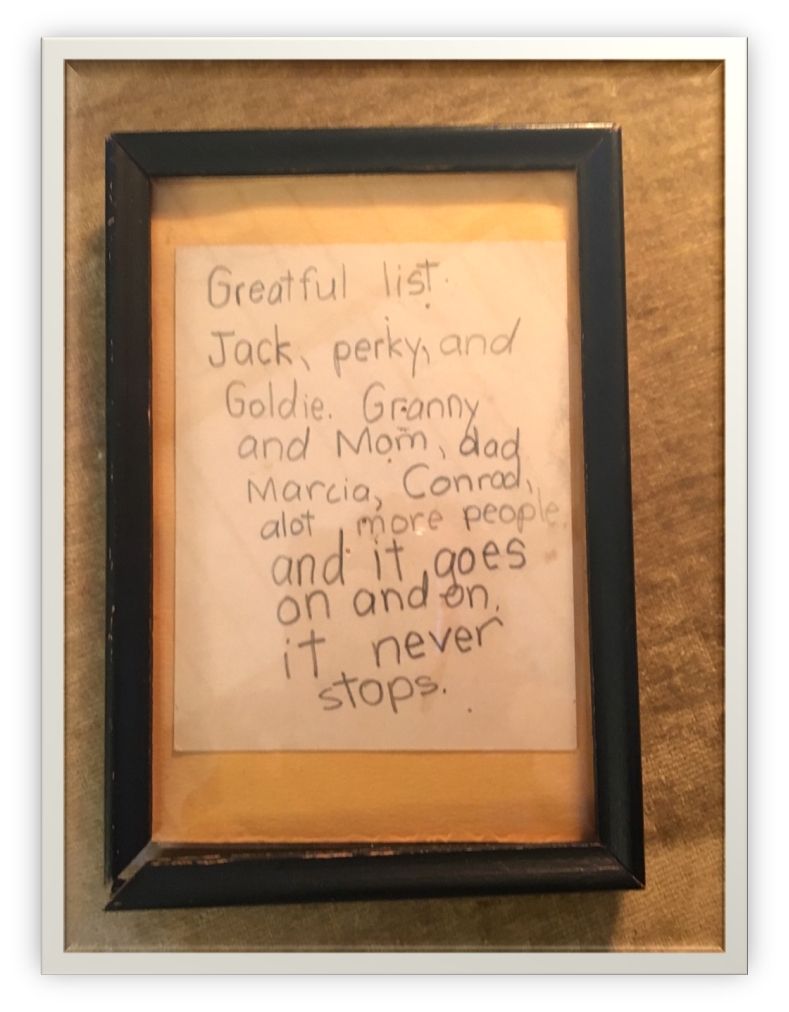 "Greatful" List, age 7. My mother was a fan of lists and taught me to be grateful at an early age. Spelling skills came later. Here's one she framed: dogs and cats and family and friends. It still hangs in the living room of my childhood home.
Medium: Pencil on a sheet torn from her sketchpad.
Gratitude Journal, age 35. After two decades of a hard-driving life, when the only thing in my life remotely related to gratitude was a Grateful Dead show, I finally stopped running away from myself. A page from Year One:
Dear Universe:
Thank you for keeping me sober, one day at a time.
Yours truly,
Me
Medium: Leatherbound journal, purple gel pen.
Gratitude Blog Posts, age 50. So, this happened: I quit the insurance career I never planned on to take care of my mother and somehow became what I always wanted to be: a writer. I started this flash blog to sort things out. Dementia. Family. Caregiving. Recovery. Dogs and cats. Running. Depression. Writing. From the depths of despair, writing brought a sliver of hope. And yeah, I wrote a few posts about gratitude.
Medium: keyboard and website. Cyberspace.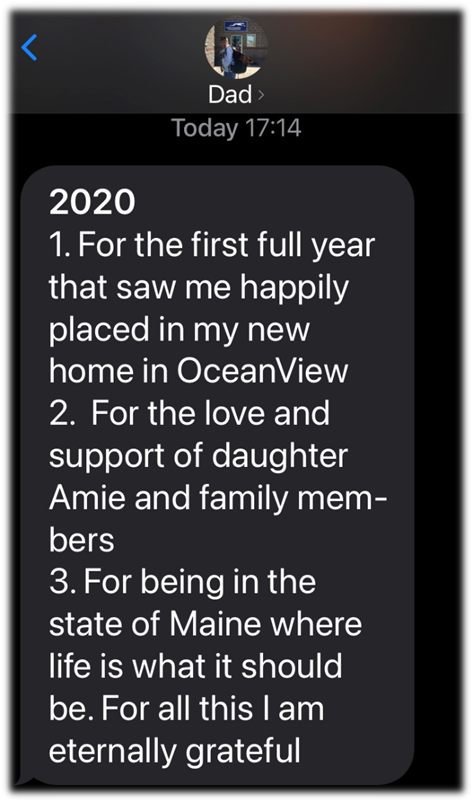 Gratitude DadTexts, Pandemic edition. Shortly before the pandemic, my father moved from his beloved old island cottage to an assisted living community. Before he'd had time to make friends, the place went on lockdown. Lonely and a little sad, he was stuck in a tiny apartment with his aging cat, Gilbert. Like my mother had done all those years ago, I revived the Grateful List and every day for three months we exchanged lists via text.
Medium: iPhone.
100 Days of Gratitude Sketches, 2022. Last month, I stumbled onto Suleika Jaouad's 100-Day Project, with the simple guidelines to "create one beautiful thing each day." Daily now, I leave the comfort of my word world to orbit a new galaxy of art: a tiny sketch of one thing I'm grateful for each day. The artwork isn't pretty and clearly, I did not inherit my mother's artistic talents, but the challenge is unexpectedly exhilarating.
Medium: sketchbook, colored pencils and markers.
My gratitude journey goes on and on, it never stops. My seven-year-old self knew it all along.