To celebrate the holidays, we're gifting you with reminders to take care of yourself. This week, it's all about you!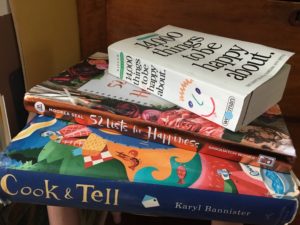 As caregivers ourselves, we know you're pressed for time. You want to give those you take care of a joyful experience. Relive past holiday traditions with loved ones, if only momentary glimpses. Emotions run high. You're stressed. Your patience is wearing thin. You know you have to take care of yourself first, but you've got conflicting priorities.
Giving your best to others begins with the gift of self-care.
Today's Gift: Top 3 Books for Self Care
· 52 Lists for Happiness: A quick, inspirational journal
· 14,000 Things to Be Happy About: flip open a page and scatter joy!
· Cook & Tell: from casual gourmet to easy comfort food, a cookbook written and illustrated by my mother
The Taking Care Flash Blog is a different take on caregiving. With a slight twist on the standard 140-character tweets, I honor the caregiver's need for a quick fix — every post is 140 words or less.