CareGiving.com is hosting its annual Holiday Progressive Blog Party, and you're invited!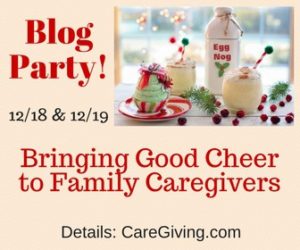 On December 18 and 19, stop by the featured websites and blogs of family caregivers, and drop off holiday well-wishes and good cheer. It's a cook-free party; instead of dishes, enjoy comfort and support. The party lasts two days so you'll have plenty of visiting time.
CareGiving.com is giving away a gift a day. For a chance to win, just post a comment on the site.
And be sure to check out Taking Care this week. We're a featured blog at the party, and we're gifting you with triple treats every day, because giving your best to others begins with the gift of self-care.
Taking Care . . . it's about transforming passion into purpose.